It's no secret that Donald Trump likes to boast about his achievements, imagined and otherwise, that is no secret.
According to analysis by the Washington Post, it stated that Trump made 30,573 false or misleading claims during  his four years as president of the United States, and his final day on Wednesday, when Joe Biden was sworn in as the country's next president.
At IzzSo, we've roundup a list of Trumps most bizarre and false statements below:
'I won the popular vote'
"In addition to winning the Electoral College in a landslide, I won the popular vote if you deduct the millions of people who voted illegally" Donald Trump said via twitter.
One particularly pernicious lie that Trump has stuck to is that millions of votes were cast illegally in the 2016 election in favor of his opponent, Hillary Clinton. The number just so happens to make up for the nearly 3 million votes by which he lost the popular vote, and is so outrageous that even some of his ardent supporters had trouble explaining it without falling into logical traps.
"We will probably never know the answer to that question," the Kansas secretary of state, Kris Kobach, said in July 2017, when asked about the claim. "Because even if you could prove that a certain number of votes were cast by ineligible voters, for example, you wouldn't know how they voted."
Chinese tariffs
Trump said at a teleconference with members of the military "As you know, we're now getting along very well with China and trade. In fact, they just took tariffs off more than 800 products, where they were charging us tariffs. And now those tariffs are gone."
"Gone" was an exaggeration. China announced the day prior that it will lower, not eliminate, tariffs on more than 850 US products starting on January 1st.
The accuracy of the whistleblower
Trump criticized in an anti-impeachment letter to House Speaker Nancy Pelosi "the so-called whistleblower who started this entire hoax with a false report of the phone call that bears no relationship to the actual phone call that was made."
The whistleblower's account of Trump's July call with Ukrainian President Volodymyr Zelensky has been proven highly accurate. In fact, the rough transcript released by Trump himself showed that the whistleblower's three primary allegations about the call were correct or very close to correct.
Trump's was the biggest inauguration crowd ever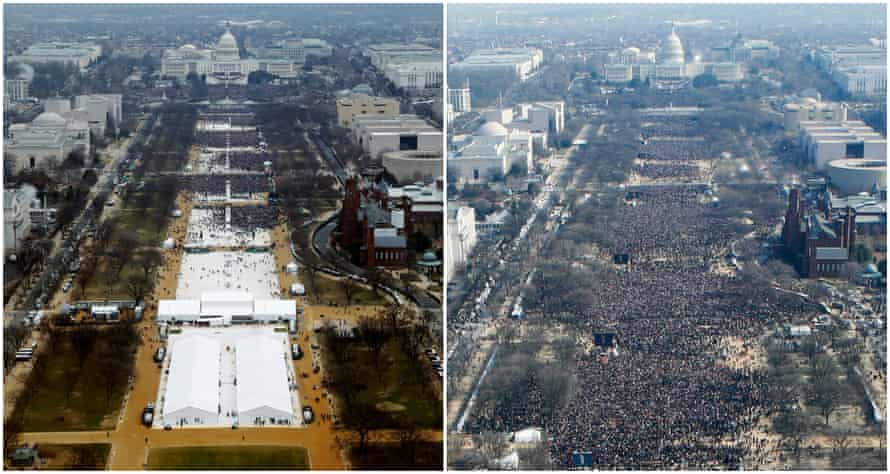 A combination of photos shows the crowds attending the inauguration ceremonies of Donald Trump, left, and Barack Obama, right. Photograph: Staff/Reuters
In one of the earliest and most absurd claims of his young administration Trump said he had up to 1.5 million people in attendance for his inauguration, making it "the largest audience ever to witness an inauguration, period", which was the lie Sean Spicer infamously relayed on his behalf. Trump's number was a vast overestimate.
A government photographer even edited official pictures of the inauguration to make the crowd appear bigger, following a personal intervention from Trump, according to documents.
It was a "massive field of people … packed", Trump said at CIA headquarters the following day, adding that God had stopped it from raining that day. (It in fact rained.)
Mexican soldiers and the border
"And, as you know, we have 27,000 Mexican soldiers on our border right now protecting our border." Trump remarks at meeting with Guatemalan President Jimmy Morales.
Mexico has deployed around 27,000 troops, but Trump exaggerated how many are being stationed near the US border in particular. CNN reported on November 2: "Nearly 15,000 troops are deployed to Mexico's northern border, where they've set up 20 checkpoints, Mexican Defense Minister Luis Cresencio Sandoval said last week at a press briefing on the country's security strategy. At the southern border, 12,000 troops are deployed and have set up 21 checkpoints."
Acting US Customs and Border Protection commissioner Mark Morgan has offered similar numbers, telling reporters in September that 10,000 of approximately 25,000 troops were on Mexico's southern border.
Family separations began under Obama
"President Obama separated children from families," Trump began saying in 2018, using a regular tactic of his in falsely placing blame for his policies on the previous administration. This is blatantly untrue. Unlike under the Trump administration, there was no official Obama policy of separating families and it did not happen outside of a few rare instances.
Judicial appointments
"187 new Federal Judges have been confirmed under the Trump Administration, including two great new United States Supreme Court Justices. We are shattering every record!" Trump claimed in a December 24, 2020 tweet.
Trump has set at least one important record on judicial appointments — he has appointed more appeals court judges than any other president at this point in a term — but not "every record." Notably, the statistic he cited in this tweet, 187 total judges confirmed, is not a record, according to Russell Wheeler, a visiting fellow at the Brookings Institution who tracks judicial appointments.
President Jimmy Carter had appointed 197 people to federal courts by December 20 of his third year in office, Wheeler said. If you go by the percentage of the judiciary appointed, both Carter (29%) and President Richard Nixon (31%) had Trump (21%) beat, according to data Wheeler provided to CNN.
Trump had appointed 50 people to the federal appeals courts as of December 20, according to Wheeler's data and recent news reports. Carter had appointed 48 by the same point of his own presidency.
Employment rate
Trump claimed that his administration had overseen "such good job numbers" that were "absolutely incredible".
However, unemployment has almost doubled while he has been president, with 6.7 per cent of Americans currently without work. That number reached 14 per cent in April last year – the highest since the Great Depression.
And in December, the American economy lost more jobs than at any point since April – at the peak of the Covid-19 pandemic last Spring.
Unemployment, in fact, has been featured at least 644 times in Mr Trump's mistruths, with the former president in December having tried to suggest that "We have slashed the unemployment rate from 14.7 per cent all the way down to 6.7 per cent. And a lot of people thought that the 14.7 per cent could be 32 per cent, or 40 per cent, or 45 per cent."
According to the Post's fact-checkers, however, economic forecasts predicted highs of 20 per cent unemployment – no where near the 45 per cent suggested by Mr Trump.
Trump's job record
In his final speech before leaving the White House on Wednesday, Trump bragged about his jobs record, saying that "we have such good – and have had – such good employment numbers. The jobs numbers have been absolutely incredible ". He continued: "When we started, if we hadn't been affected by the pandemic, we would have had numbers that would never have been seen – already our numbers are the best ever. "
Trump's grammar makes this claim a little hard to verify – he seemed to come and go from bragging about the past to bragging about the present – but he obviously doesn't "already" have the best job record of any. President. In fact, thanks to the big job losses in the pandemic era, he is leaving his post in the United States. about 3 million fewer jobs only when he took office. No other president after the Second World War, a period for which we have good official data, the employment record was negative.
Report done with additions from CNN and BBC.