NHS England London medical director Vin Diwakar set out the stark analysis to the medical directors of London's hospital trusts on a Zoom call.
The NHS England presentation, seen by HSJ, showed that even if the number of covid patients grew at the lowest rate considered likely, and measures to manage demand and increase capacity, including open the capital's Nightingale hospital, were successful, the NHS in London would be short of nearly 2,000 general and acute and intensive care beds by 19 January.
The briefing forecasts demand for both G&A and intensive care beds, for both covid and non-covid patients, against capacity. It accounts for the impact of planned measures to mitigate demand and increase capacity.
For both G&A and intensive care, three scenarios are detailed: "Best", which projects 4 per cent daily growth; "average" which plots 5 per cent daily growth; and "worse" which forecasts 6 per cent daily growth.
The briefing says that growth on 5 January was 3.5 per cent for G&A beds 4.8 per cent for ICU beds.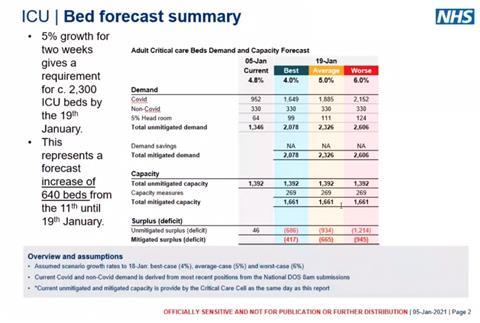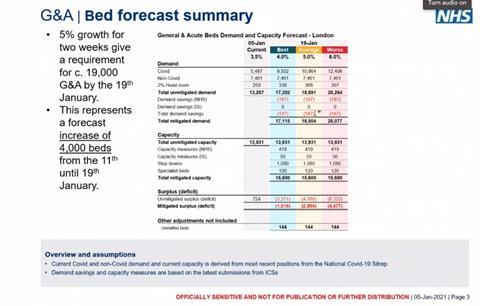 Under the "best" case scenario, the number of covid patients in G&A beds is projected to rise to 9,500 by 19 January, while the number of non-covid patients stays the same at 7,460 (as it does under all the scenarios).
After some very small demand control measures, total demand is projected as 17,100. The briefing then sets out ways the capacity might be increased. These measures include the NHS finding another 400 beds, and the independent sector 50. These would be complemented by 1,000 "step down beds", some of the supplied by the opening of the capital's Nightingale hospital, and 150 freed up by specialist trusts.
This gives total capacity of 15,600 – 1,500 short of forecast demand.
The shortfall in beds – described as a "mitigated deficit" – in the "average" scenario is 2,900 and 4,400 in the "worse" one.
The briefing shows that as of 5 January the London NHS had an "unmitigated surplus" of 720 general and acute beds, 5 per cent of its total. Just over 40 per cent of its G&A beds were occupied by covid positive patients.
HSJ understands the medical directors discussed opening up further capacity within the capital over and above that contained in the briefing, but that lack of available staff meant this was unlikely to succeed.
In the first wave, London peaked with about 1,160 covid patients in critical care. It is now just short of this figure, on 1,075. In the spring, total available critical care capacity was put at around 1,550. At one point it was claimed this could be "super surged" much further – to at least double this – but it is unclear if that was truly possible. It would require radical dilution of staffing and standards of care.