As the 'Bachannal' thickens with claims from Prince Harry and Meghan's interview with Oprah Winfrey that their son was denied a royal title, possibly because of his skin colour, many are asking "Why isn't Archie a Prince?"
Prince Harry and Meghan Markle's son Archie Harrison Mountbatten-Windsor, maybe seventh in line to the British throne and a great-grandchild of the reigning monarch, In contrast, the children of Harry's older brother Prince William are Prince George, Princess Charlotte and Prince Louis.
Technically, when Archie was born, he could have used the title of Earl of Dumbarton because he is a great-grandson of the monarch in the male line, and because his father, Prince Harry, has a ducal title (the Duke of Sussex). At the time, it was thought that Harry and Meghan had chosen to forgo the title for their son—but in the Sussexes' interview with Oprah Winfrey, Meghan said that wasn't the case. She claimed that it was, in fact, the institution of the monarchy that didn't want her and Harry's child to have a title, which the couple learned while she was pregnant with Archie.
"They were saying they didn't want him to be a Prince or Princess, which would be different from protocol, and that he wasn't going to receive security," Meghan said. "This went on for the last few months of our pregnancy where I was going, hold on for a second."
She explained further, "They said [he's not going to get security], because he's not going to be a Prince. Okay, well, he needs to be safe so we're not saying don't make him a Prince or Princess, but if you're saying the title is what's going to affect that protection, we haven't created this monster machine around us in terms of clickbait and tabloid fodder you've allowed that to happen which means our son needs to be safe."
The Duchess said that no suitable explanation was given for why they didn't want Archie to want to have a title, but that if he needed to have a title to receive security, she did want him to have a one: "If it meant he was going to be safe, of course."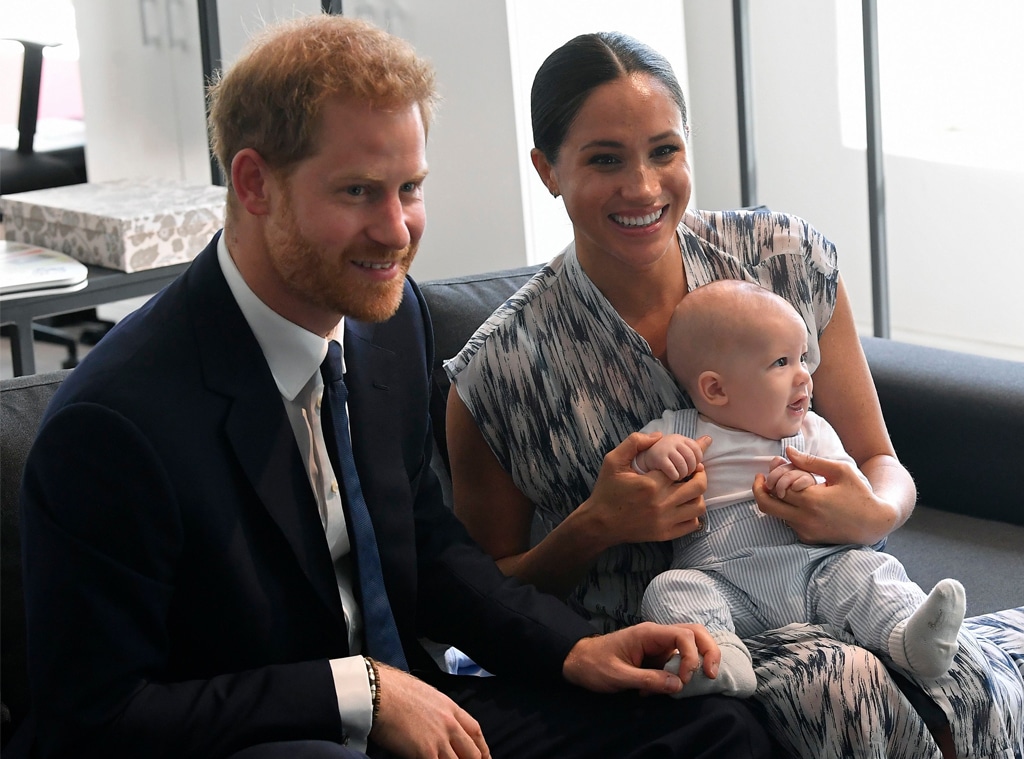 Meghan also mentioned that the Firm (another name for the institution of the royal family) wanted to change the current conventions, which would make Archie automatically a Prince when Charles becomes King. "Even with that convention, they said, 'I want to change the convention for Archie.' Well, why?"
This was particularly concerning to Meghan given that her child would be "the first member of colour in this family isn't being titled in the same way as other grandchildren would be" and that "concerns and conversations about how dark [Archie's] skin might be when he was born."
However, how did the royals arrive at this situation in the first place, in which conventions can be changed at will? Interestingly, who gets to be Prince or HRH is not dictated by some arcane rule that's been in place since the Tudors and Stuarts ruled the realm, but an evolution of royal rules that's taken place over the last century.
Queen Elizabeth II has nine great-grandchildren, including Archie. They are neither princes nor princesses, apart from the three children of Prince William, second to the throne and destined to be king one day.
A decree issued by King George V in 1917 limited the titles of prince and princess to the children of the monarch, the children of the sons of the monarch and the eldest living son of the eldest son of the Prince of Wales, son of Williams, Prince George.
Bob Morris, of the Constitution Unit at University College London, said the rule was crafted to reduce the growing number of princely titles.
Queen Victoria had nine children who were all princes and princesses, and then they had children and so on, and George V felt… that something had to be done to fix the situation, he said.
(An exception to this rule was made when then-Princess Elizabeth was pregnant with her first child, Charles, in 1948. Her father the King issued a Letters Patent to give her children royal (i.e. HRH) status before she succeeded to the throne. If King George IV had not done this, Charles would have been Earl of Merioneth and Anne, Lady Anne Mountbatten, taking their rank and titles from their father, the Duke of Edinburgh.)
The most recent change to the convention was made in 2012, when the Queen issued a new Letters Patent to address the question of what happened if Will and Kate's firstborn child was a girl. The rules of succession had already changed—the firstborn child would be the heir, regardless of gender—but the 1917 Letters Patent still dictated that only the firstborn son could be HRH Prince. (Before this shift, had Charlotte and George's birth order been switched, she would be Lady Charlotte, her younger brother would have been HRH Prince George, and then the third-born sibling would have been Lord Louis.)
Queen Elizabeth II issued a new Letters Patent that gave the HRH title to all the children of the eldest son of the Prince of Wales, smoothing out a confusing and sexist situation. Consequently, the Duke and Duchess of Cambridge's two younger children are HRH Princess Charlotte and HRH Prince Louis.
The Queen could have, at that point, changed the rules to accommodate all the children of the sons of the Prince of Wales. "If Harry's kids were to be royal, the 2012 Letters Patent offered the perfect opportunity to make that known. It didn't happen," Koenig said. "Harry wasn't married at the time, but he didn't need to be married for the LP to be changed."
What Meghan appears to have been referring to in her interview with Oprah was a plan to issue another LP in the future, which would further limit who was eligible to get the title of HRH Prince or HRH Princess.