Toy manufacturer Mattel has launched a new line of dolls that are 'gender-inclusive' and 'free of labels'.
Mattel said it worked alongside a 'dedicated team of experts, parents, physicians and most importantly, kids' to create the six different kits in a variety of skin tones.
The Creatable World line allows children to unlock their imagination by styling and dressing their doll as they wish. The six initial character kits released by Mattel on Wednesday contain a gender-neutral doll with short hair and several customizable clothes and accessories to create different looks.
The versatile dolls can be styled with a long-haired wig and dressed in pants, a skirt or shorts, as well as three different styles of shoes, sunglasses and other accessories.
The six initial dolls are also each diverse in skin and hair color.
According to the Creatable World website, the doll line is "designed to keep labels out and invite everyone in—giving kids the freedom to create their own customizable characters again and again."
According to Time, the 11-inch dolls don't have any characteristics that are specifically gendered. "The lips are not too full, the eyelashes not too long and fluttery, the jaw not too wide. There are no Barbie-like breasts or broad, Ken-like shoulders," said the magazine.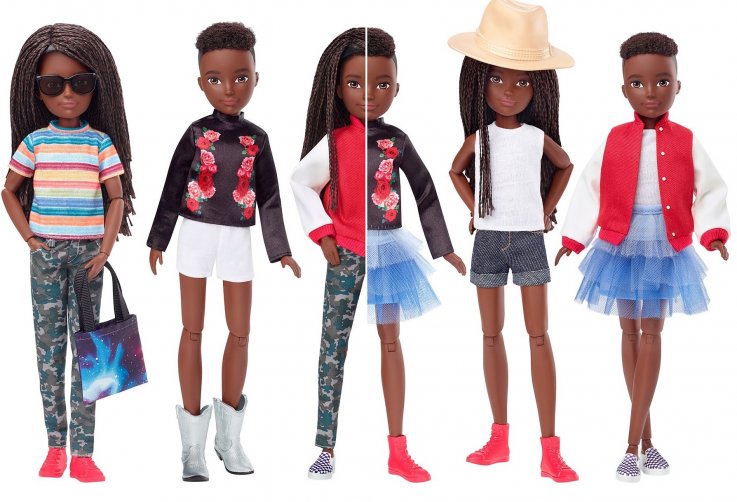 The Creatable World doll line is a response by Mattel to the increased understanding of fluid gender identity among today's youth. More young U.S. citizens than ever before are identifying as non-binary, transgender and gender-fluid.
According to a study published in October, three percent of Minnesota teenagers said they do not identify with traditional "male" or "female" gender labels. A UCLA study from January 2017 found that 0.7 percent of U.S. teenagers aged between 13 and 17 identified as transgender.
Last week, Oscar-winning singer Sam Smith revealed they are non-binary and now choose to use gender-neutral they/them pronouns.
Monica Dreger, Mattel's head of consumer insight, told Time: "There were a couple of gender-creative kids who told us that they dreaded Christmas Day because they knew whatever they got under the Christmas tree, it wasn't made for them. This is the first doll that you can find under the tree and see is for them because it can be for anyone."