For the past few years, there's definitely been a theme of "steady refinement" among Samsung's flagship phones and unless you've been only sunbathing at Maracas beach with a bake and shark, you probably know that one of the most powerful smartphones out right now is the Samsung Galaxy S21 series.
During an exclusive interview with Mr. Gianmarco Leri, Product Manager of Samsung Electronics Latin America, he shared with us that Samsung's target market, are for those persons who want the best technology in palm of their hands, this is one of the first series of devices that runs on Qualcomm's Snapdragon 888 with the Ultra variant of the Galaxy S21 being the most powerful of the bunch. It's got a larger, higher resolution screen, better cameras, and yes people…more RAM (what we all truly need).
'Edgy' Design
In terms of design, the phone features a 6.8″ edge Quad HD+ Dynamic AMOLED 2X Infinity-O Display pushing a resolution of 3200×1440. The display isn't flat like the Galaxy S21 and Galaxy S21+ are and does feature a slight curve at the edges. It's not a dramatic waterfall though so accidental palm touches don't seem like they will be a problem.
The screen also has a tiny pinhole selfie camera that is much better looking than a notch and is barely noticeable. Up top, the earpiece is just a very thin slit that you can't even really see. The second speaker is also housed here.
Smartphone screens can be tough to beat as its 6.8-inch panel is a crisp QHD+ resolution, but the best news is that it now supports a 120Hz refresh rate at that maximum resolution.
Camera 'Fuh yuh Money'
It's no 'bachannal', that big camera bulge is full of sensors. For 2021, Samsung offers a 108-megapixel wide camera with phase detection autofocus, optical image stabilization (OIS), and an f/1.8 lens. It's paired with a 12-megapixel Dual Pixel ultra-wide with a 120-degree field of view, and not one but two telephoto lenses, both with 10-megapixel sensors.
Where Samsung beats Apple is in the department of optical zoom. With the first being a 3x optical zoom, the second a 10x zoom, both with OIS. And finally, there's a laser autofocus sensor and an LED flash.
For those familiar with photography lingo, the S21 Ultra reaches a staggering 240mm. With its widest angle being 13mm, the extreme range offered by the S20 Ultra – 13-240mm – outclasses any other smartphone camera on the market.
For the most part, the S21 Ultra's camera results back up the specs. The phone's 108MP main camera grabs the best photos of the four rear snappers. Its pictures are loaded with depth and detail, matched with rich colours and plenty of punch.
'Dependable' Battery
The batteries in the S21 and S21 Ultra aren't any bigger than the S20 versions, but according to Samsung the S21+ battery has grown by 300 milliamp-hours to 4,800 mAh. Samsung says that better power management will help the batteries in all three phones last longer.
The Galaxy S21 Ultra's 5,000 mAh battery supports 25W wired fast charging – down from 45W on the S20 Ultra – or 15W wireless fast charging
'Skillful' SPen
It's about to get 'lit' with the addition of Samsung's SPen, with its functionality probably being its most notable trait. With SPen, you can take notes and save them automatically to the Samsung Notes app, which supports text highlight, dragging and dropping files, annotating, recording voice messages, and saving notes as Microsoft PowerPoint files. As for productivity features, the phone comes with the Microsoft productivity suite pre-installed. It includes Outlook for mails, OneDrive for cloud storage, Office, and LinkedIn.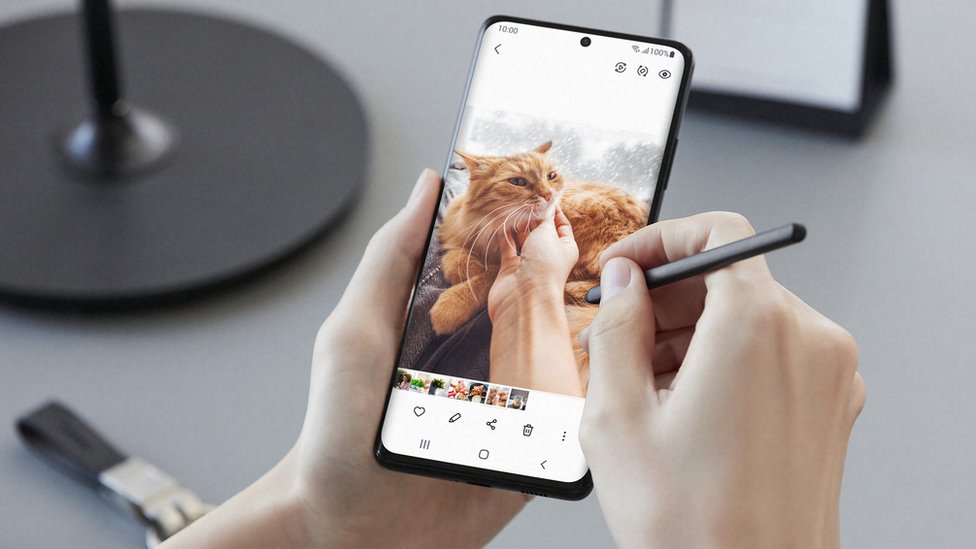 'Vibrant' Video
And for those weekend trips, down-d-islands, savannah, hikes or even just liming with friends, for video, there's up to 8K24 support though not for every sensor. If you want the same quality out of each camera – front and rear – you'll need to switch to 4K60 instead. That's how Samsung makes the most of its new Director's View, where you get a preview of each camera's perspective while you're recording, can tap between them in turn, and the final footage uses only the view you selected at each point. Vlogger View splits the screen to include both the rear camera's view and that of the 40-megapixel selfie camera.
As for Night Mode, Samsung combines its wide-open main sensor with AI to drag more light out of each scene. It works well for lifting brightness, though there's less clarity than I'd expect to see compared to, say, a Pixel 5's night shots. And for those who are gamers, Samsung has partnered with Microsoft and Xbox, so there are 120 games to available to the user, it's simply amazing!
Data Security 'Is Ah Must' 
With all that's happening online, mobile devices have become our multi-purpose tools – our wallet, our phonebooks, our photo albums, our portable computers, give us a change, we'll put even our significant other with it…LOL! However, for an extra layer of privacy, Samsung has a Secure Folder that creates a separate encrypted space to store your data, meaning only you have access to the most private parts of your phone. It also allows you to browse the internet safely on public wireless connections without fear of security breaches.
'Excellent' Connectivity
The Galaxy Ecosystem pursues a lifestyle that makes it easier and more comfortable with Galaxy devices. For example, thanks to app continuity, you can easily continue working between devices or communicate with others from anywhere.
The Samsung Galaxy S21 series phones are already AVAILABLE at ALL Samsung stores in Trinidad and Tobago.
Overall, the Galaxy S21 Ultra is an all-purpose premium smartphone that brings the best of both worlds — Galaxy S and Galaxy Note series. It is a premium Android smartphone like no other. Its novel and bold design, exceptional display, top-notch imaging, sleek performance and productivity-centric value-added features, makes it all worthwhile. In fact, this might just be the best Galaxy S-series smartphone they've ever designed; there is no other Android smartphone yet that offers a similar experience.