Tobagonian Sekani Solomon, senior motion designer, Node Motion Design, New York, NY, USA; was among 28 winners hailing from 18 countries recognised at the prestigious Young Guns 17th Young Guns Award on Not 20th.
Young Guns is the industry's only international, cross-disciplinary, portfolio-based awards competition that identifies today's vanguard of young creatives. Submissions were received from more than 45 countries and judged by 61 top creatives from around the world, about half of whom are past Young Guns winners.
Mr. Solomon said "I've always wanted to work with a dope artist to create a music video. There are so many talented youths back home in Trinidad and Tobago that I'd love to figure out how I can apply skills to create something awesome with one of them. My schedule is always so hectic lately so hopefully at some point I can find time to bring that idea to life."
The Young Guns winners all receives]d a unique version of the iconic Young Guns Cube, designed exclusively for this year's incoming class, and have their permanent profile page added to the Young Guns website. Winners also receive a complimentary one-year membership to The One Club for Creativity, permanent membership in Young Guns network, a chance to be featured in Young Guns events and an assortment of career-boosting opportunities from Young Guns sponsors.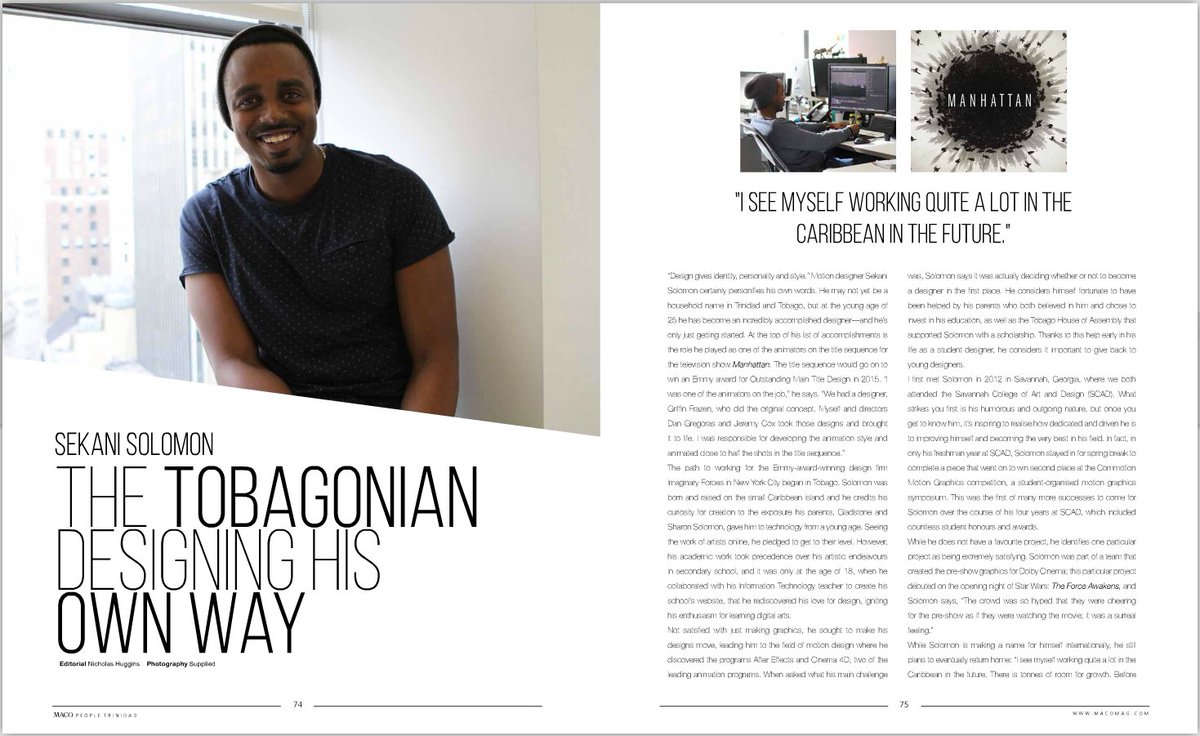 Some of Solomon's career achievements include winning an Outstanding Main Title Primetime Emmy Award for "Manhattan", releasing a new short film entitled "Hidden" and working on the main titles for the record-breaking, multiple award-winning Marvel Cinematic Universe film "Black Panther", starring fellow Tobagonian Winston Duke who plays "M'Baku".
When asked about his Creative style, Mr. Solomon said "I love making things that feel cinematic and surreal. With all the possibilities that 3D brings, I always try to visually push how I can show an idea or concept. I use a lot of dynamic camera moves and effects, but also to put a good bit of attention to detail and polish on my pieces, always making sure to have the visuals be in equilibrium with the concept."
"Coming from Trinidad and Tobago, where design isn't as integral to the culture as it is in places in New York and Los Angeles, I'm particularly happy I've been named a Young Guns 17 winner. I want to show young people back home that it is possible to achieve success in the design field at a high level. This award also serves as a reminder of the importance of hard work and consistency. It's paramount to keep the work at this level while aiming to push it further."